In the first year of the Meiji Period (1868), the founder Zenpachi Muramatsu established the company as a family business making in his hometown of Yaizu, Shizuoka. He added his own improvements to the traditional methods of making dried bonito in Yaizu by incorporating the techniques used by the three major producers – Tosa, Satsuma, and Izu – and created a product that not only tastes and smells superb but also has a beautiful form. And thus the "standard Yaizu dried bonito" was born. This production method led to the concept of establishing quality standards for dried bonito. The "standard Yaizu dried bonito" was highly rated at various exhibitions and made a significant contribution to the development of the marine products processing industry.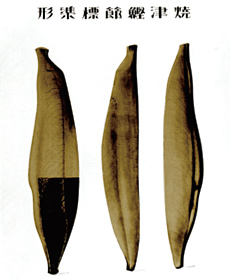 Standard Yaizu dried bonito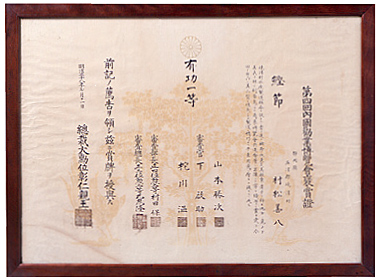 Top rank awarded for dried bonito at the 4th Japan Industry Fair

In the Taisho Period (1912-1926), Zenpachi Muramatsu, II, took over the business and developed "bonito extract,"
a natural seasoning made by refining the broth that is created when producing dried bonito and making it into a concentrate. The bonito extract was further used to produce a "bonito seasoning base" by coating broken bits of dried bonito with the extract. This allowed people to easily savor the taste of dried bonito, making it a very popular and unprecedented, groundbreaking product. As a result of the effective use of bonito, the possibilities presented by dashi were expanded.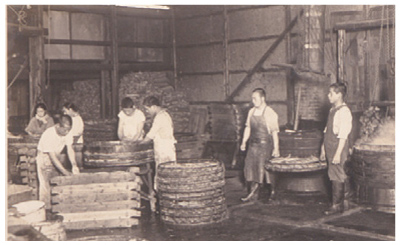 Simmering process during the Taisho Period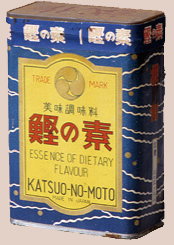 Old package for
bonito seasoning base

Due to the dire situation that the bonito industry faced in Japan at the end of the Second World War, Zenpachi Muramatsu, III, tried producing dried bonito in the Philippines and Borneo. Zenpachi Muramatsu, IV, revived the business from square one after the war. With the support of the local trust established by the previous generation of owners, he restored techniques that had been lost and reestablished the company through resolute faith and strong leadership. He also developed Powmi, a flavored seasoning in powder form, to meet the demand for instant products that accompanied the period of high growth starting in the late '50s and early '60s. Powmi was widely used in the kitchens of schools and hospitals to cook meals for large groups. The company's bonito extract and other natural seasonings were used as raw material by processed food makers, and Maruhachi Muramatsu came to be known as a specialist maker of dashi among its many customers.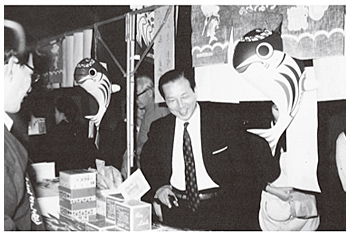 Zenpachi Muramatsu, IV, at a sales exhibition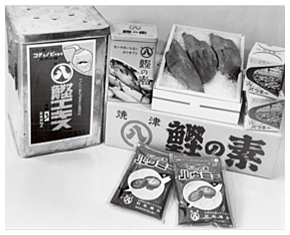 The company's products
in the late '60s and early '70s

The know-how in material procurement and manufacturing technology for making natural seasonings that have been cultivated over generations is being applied today to produce ingredients for health foods and medical products. In addition to the challenge of creating a variety of tastes using dashi, the company is also exploring other potential opportunities that bonito presents.
Bonito seasoning base series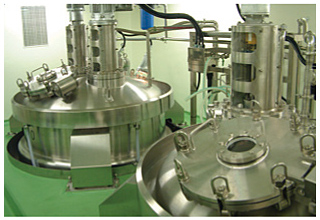 Extraction plant